If you are looking for an excellent oral surgeon who can also provide you with
Bergen Implants
, you will want to visit us at Ramapo Oral & Maxillofacial surgery. Just one of our expert and highly trained oral surgeons is Dr. David J. Caponigro.
Whether you want to get traditional
Bergen implants
, or All-on-4 implants from our local oral surgeon, you can do no better than to come to our oral surgery and dental implant practice. We offer many different services including: surgical removal of wisdom teeth; dental implant placement; reconstructive jaw surgery; orthographic surgery; bone grafting and sinus lifts; as well as treating oral surgery emergencies. Our patients know that dental implants are an excellent way to replace missing teeth; dental implants look, feel, and function just like permanent teeth, and if well taken care of with excellent oral hygiene, should last a lifetime. Dental implants are actually anchors which are made at of titanium and are planted in to the jawbone. They are then covered with a dental crown. Dental implants are stronger than a natural tooth root, and will never be damaged or need dental care. The dental implant will maintain the health and shape of the bone in the area of the implant, and will help the patient to retain their youthful appearance. Dental implants can be used to support dental crowns or dentures. An exciting new way to use dental implants is with All-on-4 treatment. If you have lost most of your natural teeth, but cannot get dental implants because you have lost too much jawbone volume, the All-on-4 dental implant procedure can be an excellent way for you to go. Our oral surgeon can review your individual case and let you know if this innovative treatment is right for you. With All-on-4, only four dental implants are used to support a non-removable full arch of teeth. Almost everyone is eligible for this innovative treatment without needing a bone grafting procedure.
For an appointment to meet with our dentist regarding getting
Bergen implants
, or other oral surgery care, contact us today.
By Ramapo Oral & Maxillo-Facial Surgery
April 15, 2019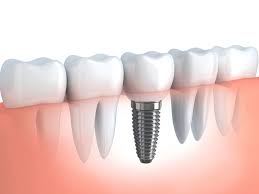 Blog Posts
Follow Us